Some Nigerians have been arrested in the United States for their alleged involvement in multi-million dollar wire fraud scheme.
Legit.ng gathers that the nine defendants, Oluwaseun Adelekan, a/k/a "Sean Adelekan," Olalekan Daramola, Solomon Aburekhanlen, Gbenga Oyeneyin, Abiola Olajumoke, Temitope Omotayo, Bryan Eadie, Albert Lucas, and Ademola Adebogun, were arrested for defrauding businesses and individuals of more than $3.5 million through business email compromises, a Russian oil scam, and a romance scam.
Berman said: "As alleged, these defendants deployed three different email schemes to defraud their victims. The common denominator in all three schemes was the defendants' alleged fleecing of their victims through fictitious online identities. The schemes allegedly earned the defendants $3.5 million – and also arrests on federal felony charges."
"A transnational criminal organization allegedly conducting illicit domestic and international wire fraud has been dismantled thanks to the hard work of HSI Tampa and Special Agents from the U.S. Attorney's Office for the Southern District of New York. This case illustrates the unique investigative authority and international reach of HSI," HSI Special Agent-in-Charge James C. Spero commented.
According to the US authorities, the offences the suspects were arrested for dated back to "July 2016, up to and including the present."
The suspects allegedly participated in a scheme to defraud businesses and individuals through several categories of false and misleading representations, including but not limited to:
1. Sending victims email messages that appeared to be, but were not, from legitimate business counterparties that included instructions to the victims to wire payment to those seemingly legitimate business counterparties into bank accounts that were actually under the control of, and/or maintained by, Adelekan, Daramola, Aburekhanlen, Oyeneyin, Olajumoke, Omotayo, Eadie, Lucas, and Adebogun (the "Business Email Compromise Scam");
2. Sending email messages and text messages to at least one victim offering an opportunity to invest in oil stored in Russian oil tank farms conditioned on that victim wiring upfront payments into bank accounts purportedly affiliated with the purported oil investment but actually opened by and under the control of Aburekhanlen, Olajumoke, and Oyeneyin (the "Russian Oil Scam"); and
3. Sending email messages and text messages to at least one victim from an individual (or individuals) purporting to be a female with romantic intentions toward the victim requesting, further to establishing a romantic relationship, the wiring of payment into a bank account under the control of Omotayo (the "Romance Scam").
The victims of the fraud reportedly transferred in excess of $3.5 million into bank accounts opened in the names of shell companies and under the control of and/or maintained by the defendants.
The suspects are each charged in the Indictment with one count of conspiring to commit wire fraud. Each of them faces a maximum potential sentence of 20 years in prison.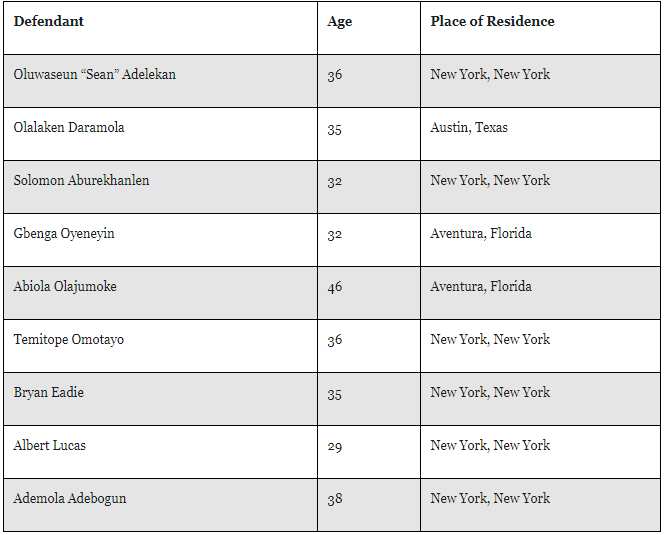 The charges contained in the indictment are merely accusations, and the suspects are presumed innocent unless and until proven guilty, the US authorities noted.
Also, while names of six of the suspects (Oluwaseun Adelekan, Olalekan Daramola, Gbenga Oyeneyin, Abiola Olajumoke, Temitope Omotayo, and Ademola Adebogun) easily give them away as Nigerians, Legit.ng cannot independently verify if the remaining three suspects (Solomon Aburekhanlen, Bryan Eadie, Albert Lucas) are Nigerians.
The US Department of Justice only mentioned their names, ages, and places of residence, not their nationalities.
In a related development, one Enabulele Osazee Frank, who posed as a United States Major Barnett Edward, has been sentenced to 30 days in prison with an option of an N25,000 fine by Justice Danlami Senchi of an FCT High Court sitting in Jabi.
The development was made known by the Economic and Financial Crimes Commission (EFCC).
Legit.ng notes that the anti-graft commission said Enabulele was among six suspected "yahoo yahoo boys" arrested in Abuja, by its operatives on May 11, 2018, through a sting operation following intelligence report on their activities.
It said Enabulele was arraigned on April 3, 2019, on an amended one-count charge bordering on an attempt to cheat.
Credit: Naiji.com
Please follow and like us: