Chancellor Rishi Sunak has hinted at an extension to the furlough scheme but warned he will 'level' with the public over the economic toll of the pandemic.
Speaking to Sophy Ridge on Sunday, Mr Sunak insisted he will do whatever it takes to support business in the UK as it recovers from coronavirus lockdown measures.
He said: "I said at the beginning of this crisis that I would do whatever it took to protect people, families and business through this crisis and I remain completely committed to that.
"This is about appreciating the damage that coronavirus has done to our economy, ensuring that we protect, but also making sure that our public finances return over time so that we can (prepare) for the next crisis.
"What I want to deliver is support for our economy now when it needs it, support along that road map, helping to drive our recovery, but also levelling with people and being straight about the challenges we face over time because of the shock coronavirus has caused our public finances and making sure we're clear with people about an honest and fair plan to address that."
Mr Sunak did not deny that he plans to increase taxes to attempt to recoup some of the damage caused by lockdowns, before then slashing them in a pre-election budget.
He said: "I want to deliver our promises that we made to the British public that we would be responsible with their money, that we would look after the nation's finances and we would deliver strong public services.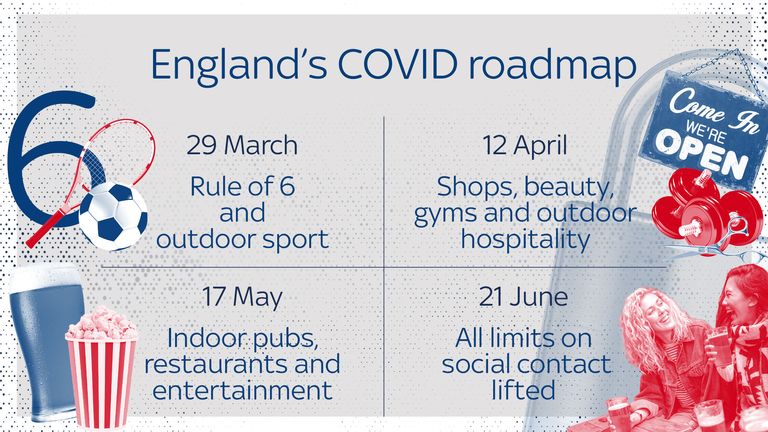 "I think in the short-term what we need to do is protect the economy and keep supporting the economy through the road map and over time what we need to do is make sure our public finances are sustainable.
"That isn't going to happen overnight, that's going to be work that takes time given the scale of the shock that we've experienced."
A £5bn grant scheme to help pubs, restaurants and retailers hit hardest by lockdown restrictions is set to be unveiled by the chancellor in Wednesday's budget.
Among other items expected to be in it are:
Support for first-time buyers by incentivising lenders to accept deposits of just 5% for properties up to £600,000
Non-essential shops in England will be able to apply for "restart grants" worth up to £6,000 to help them open gradually as lockdown eased
Hospitality venues, hotels, gyms and leisure firms – which can only open later in the government's roadmap – could eligible for up to £18,000.
An additional £794m in funding earmarked for the devolved nations.
It's highly likely that the axe will have to fall in other areas, with government borrowing surging over the past year to pay for the response to COVID-19. State debt had increased to £2.1trn by the end of January, the highest debt-to-GDP ratio in almost 60 years.
Speaking to the Financial Times, the chancellor warned that the UK is "exposed" to changes in currently low interest rates – and a rise of just 1% would add £25bn a year to the cost of servicing debt.
Credit: Sky News (Photo Credit: Sky News)
Please follow and like us: